Our Story
It Starts with Integrity
From the beginning, Amway has been a company built on the integrity of our high-quality products and unparalleled support of people looking to start and build their own business. From seed to supplement and labs to living rooms, we provide the opportunity for people to live better lives.
Brands
Amway makes high-quality products designed to make your life better. Millions of people around the world use our nutrition, beauty, home, and energy + sport products every day.
Nutrilite™ is the only global vitamin and dietary supplement brand to grow, harvest and process plants on their own certified organic farms*, located in the United States, Mexico and Brazil.

*Source Euromonitor International Limited. www.euromonitor.com/amway-claims

Artistry™ is a top selling line of beauty and skincare products, designed to meet the individual beauty needs of women around the globe. These products combine the best of science and nature to bring a personalized approach to beauty.

Amway™ Home products were created with your family in mind. Our industry leading technologies and third-party certifications ensure you are choosing the safer, healthier options for your home.

Our line of XS™ Energy Drinks and sports nutrition products help you experience more of every moment. With XS Energy Drinks, every day is an adventure.
Our Journey
Amway was founded in 1959 by Rich DeVos and Jay Van Andel. Today, Amway is redefining what it means to live well – helping to change lifestyles and lives as a social commerce brand that enables Independent Business Owners to pursue their dream of running their own business.

Today, our corporate leadership team works to bring our fundamentals and values to life in today's modern world. The founders' sons, Steve Van Andel and Doug DeVos, currently head the leadership team. They're shaping the future of Amway.

Meet our Leadership Team
Major Milestones
A legacy is made of moments. Our company has a history as remarkable and unique as the people who created it.
Amway is founded
Rich DeVos and Jay Van Andel made a pact in high school to become business entrepreneurs together. They started a flying school and opened a drive-in restaurant. Eventually, from the basements of their homes, they founded Amway in 1959, building their success on the desire to make other people successful.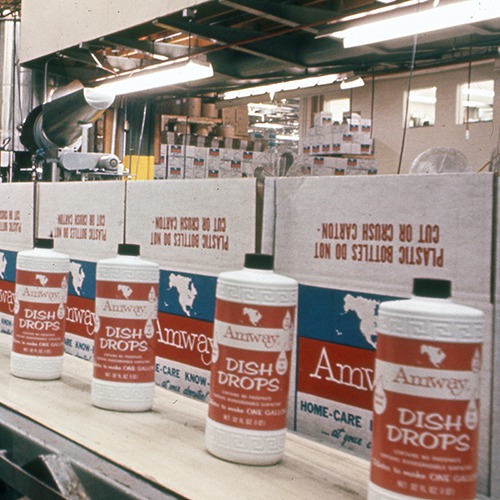 Amway launches its first product
Amway launches its first product, Liquid Organic Cleaner - one of the world's first biodegradable, concentrated multi-purpose cleaners. Liquid Organic Cleaner becomes a high seller and initiates our legacy of taking stewardship of the earth seriously.
Amway becomes international
Amway opens its first International office in London, Ontario, Canada. This would be the second of over 100+ countries and territories into which Amway would eventually expand.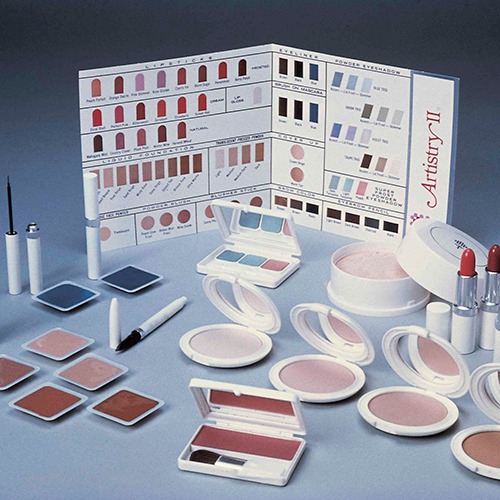 Artistry brand debuts
The Artistry cosmetics brand debuts with 11 products and 37 color shades. Artistry would grow to become one of the top-five-selling premium skincare brands in the world.
Amway acquires Nutrilite
Amway acquires the Nutrilite brand, rounding out our brand offerings to include home, beauty, and nutrition categories. Nutrilite would grow to become the world's leading brand of vitamin and dietary supplements.
Amway tops $1 billion
Amway's international sales top 1 billion dollars.
Amway expands
Amway expands into 33 additional markets around the world, including China and South Africa. Amway would eventually more than double in size during this decade.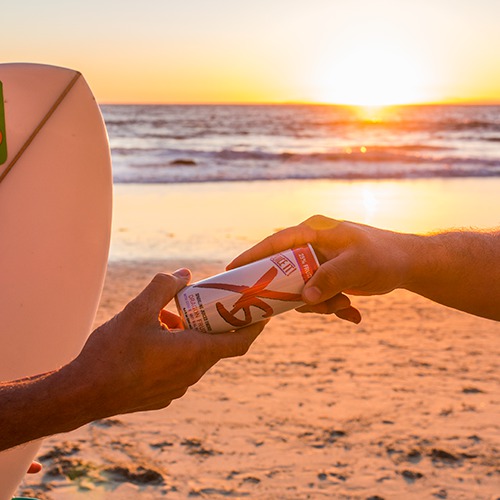 Amway acquires XS energy drinks
Amway acquires the XS™ brand of energy drinks and sports nutrition. XS is instantly popular with younger generations and emerging markets, quickly becoming one of Amway's most popular product categories.
#1 Direct Selling Company
Just over 50 years after our founding, Amway is the "World's Number-One-Direct Selling Company" according to Direct Selling News Global 100.*